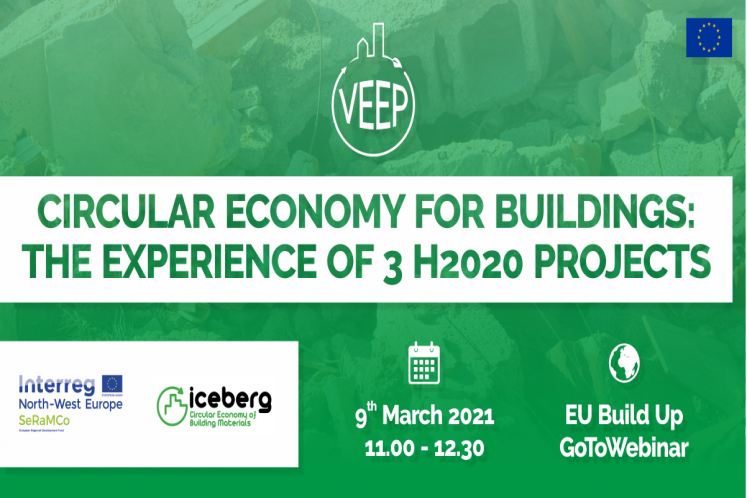 Circular Economy for Buildings. The experience of 3 H2020 projects
Around 400 million tons of construction and demolition waste, excluding excavation materials, are yearly generated and then mostly landfilled in EU.
On the other hand, concrete is the most widely used material in building, with a growing trend towards prefabrication.
VEEP has received funding from the European Union's Horizon 2020 research and innovation programme under grant agreement No: 723582 on 1 October 2016 to develop and demonstrate a series of technological solutions for the massive retrofitting of our built environment, aiming at cost-effectively reducing building energy consumption.
After 4 years, VEEP ends on 31 March 2021 and it is now time for the Project Consortium, coordinated by RINA and made up of 15 partners from 7 EU countries, to transfer their knowledge to the market.
AGENDA
11.00 – 11.50 HOW VEEP SHAPES A CIRCULAR FUTURE FOR THE CONSTRUCTION SECTOR CONCLUSIONS
– Webinar introduction by EU Build Up Team
– VEEP in a nutshell by Project Coordinator Anna Paraboschi (RINA)
– VEEP Innovative ADR + HAS Technologies: an Interview to Francesco Di Maio (Delft University of Technology)
– VEEP Sustainable Concrete: an interview to Jaime Moreno (Fundacion Tecnalia Research & Innovation)
– VEEP Green Aerogel: an interview to Francisco Ruiz (Keey Aerogel)
– VEEP Innovative Products (formworks, smart connectors and panels): an interview to Giorgia Eranio (STAM SRL)
– A virtual showcase of VEEP mock-ups
– VEEP LCA: An interview to Mingming Hu and Chunbo Zhang (CML)
11.50 – 12.00 CLUSTERING SESSION
– ICEBERG PROJECT – David Garcia Estevez – ICEBERG Project Coordinator (TECNALIA)
– Seramco PROJECT – Christian Glock – Seramco Project Coordinator – (Technische Universität Kaiserslautern)
12.00 – 12.20 Q & A
12.20 – 12.30 CONCLUSIONS