The researcher worked on her project at Gaiker –  ICEBERG Member–, where she was able to study advances  in recovering CDW materials using hyperspectral imaging techniques.
Raquel Arias Pérez, a researcher at the University of the Basque County / Euskal Herriko Unibertsitatea (UPV/EHU), has won the award convened by the Spanish Demolition, Decontamination, Concrete Cutting and Recycling Association for research on the circular economy in the construction sector. Her research on the "Efficient recovery of material resources contained in construction and demolition waste based on advanced hyperspectral imaging techniques" was the winning entry.
Raquel Arias is a chemical engineer from the University of Santiago Compostela and has a Master's degree between the UPV/EHU and the University of Cantabria. She is currently focusing on research in the steel sector, but had previously completed work experience and her end-of-degree thesis on the subject covered in her prize-winning paper, at Gaiker technology centre – a member of the ICEBERG consortium – as an Environment and Recycling Researcher.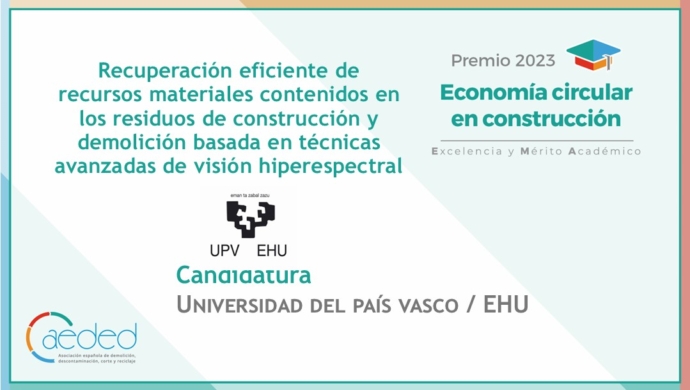 Hyperspectral imaging in the SWIR range is an emerging technique, that is innovative, reliable, fast, non-destructive, low-cost, flexible with respect to the materials to be processed, and offering the possibility of laboratory and industrial integration.
This project developed within one of the ICEBERG case studies sets out the foundations to enable the design, development, demonstration and validation of advanced technologies to produce high value secondary raw materials (purity >92% in weight), covering the circularity of concrete, mixed aggregates, gypsum boards, and polymer and insulating foams.
The Spanish Demolition, Decontamination, Concrete Cutting and Recycling Association – AEDED holds the EMA (Excellence and Academic Merit) Circular Economy in Construction Awards, aimed at students and researchers interested in this specialised trade.
The awards aim to shine the spotlight on and recognise the work of students and researchers in this field; foster the interest of new generations in the sector and encourage the incorporation of students in the labour market, and showcase the importance of the circular economy.
Paper in full:
https://www.aeded.org/cms/files/AEDED_Premio_EMA_2023_Raquel_Arias_230922.pdf